6 Mins Reading Time
How To Make Extra Money For The Holidays
The holidays are right around the corner and for a lot of people, that means going into debt and spending the bulk of the new year paying off credit cards or short-term loans. But, fortunately, holiday gift giving doesn't have to mean setting yourself up for financial failure.
Taking on a side hustle (or three) can be a great way to earn extra cash for the gift-giving season. And the best thing about the cash-generating strategies below is that they are self-directed and allow you to work at your own pace and set your own hours!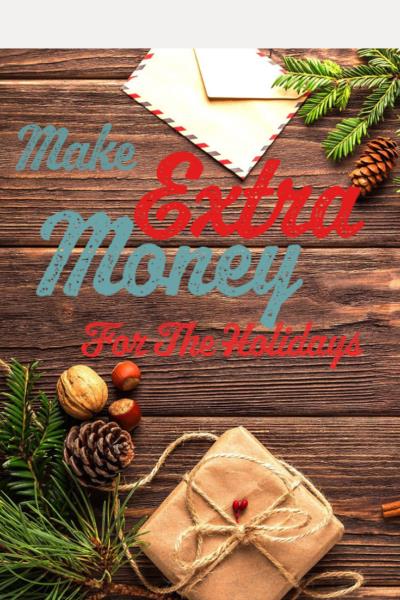 Continue on for my top tips on how to rake in some extra holiday cash!
The great thing about being a rideshare driver during the holiday season is that there are gaggles of people flocking to and from the mall during the entire month of December. And if you're willing to cart them around, you could be well on your way to pulling down some serious cash dollars to put toward your Christmas/Hanukkah/Winter Solstice shopping. If you're wondering how to be successful in the rideshare industry, have a look at this in-depth guide to becoming a ridershare driver to make extra cash.
Host a Spare Room on Airbnb
There are massive amounts of people traveling during the holiday season. If you're not using it, why not put your guest room to work making money for you. Home-sharing services like Airbnb make it really easy to market and rent your unused space. And you only have to host when you want. There is no minimum requirement. Not sure where to start? Have a look at this guide on how to be a successful Airbnb host.
Sell Crafts on Etsy
Like a lot of the suggestions on this list, selling crafts on Etsy is a great thing to do year-round. But it can be especially lucrative around the holidays. People love being able to find custom-made ornaments or finally locating something totally unique for that person on their list who seems to have everything else under the sun.
Rent Your Car Out on Turo To Make Money
If you're not familiar, Turo is a lot like Airbnb for your car. If you don't drive much or have an extra vehicle, this can be a great way to generate some extra income during the holiday season, or any time of year for that matter. You set your price and ground rules, just like with Airbnb. During November and December, car rentals are in especially high demand, so this is a great time of year to get started
Become an FBA Seller For Extra Income
Fulfilled by Amazon is a terrific program for people who want to sell online but don't always have the free time to pack and ship their items when something is purchased. The FBA program allows you to send your wares to Amazon in bulk and let them do the heavy lifting. Wondering how to get started as an FBA seller? Have no fear. Just take a look at this article on how to start selling on Amazon.
Work as a Delivery Driver
If your car is too old for rideshare, you may still qualify to deliver for a service like Postmates or Uber Eats. The base rates aren't always as attractive as what you would make with rideshare driving but the upside is that the tips are usually better and more consistent. There's also the added bonus of not having to haul anyone around in your car. So, you can listen to whatever music you want and keep the temperature precisely where you like it.
Pet-Sit with Rover
Just like humans, pets often need a place to stay during the holidays. Rover is like Airbnb for our four-legged friends. This is a pretty prime gig for animal lovers. You get to spend time with animal friends and you get paid to care for them in your own home!
Cash in Unused Gift Cards
This is something that most people can benefit from. If you have gift cards lying around from those well-meaning relatives that have no idea where you actually like to shop, you can sell them for cash. Most of the merchants that buy gift cards pay via PayPal, paper check, or direct deposit. And considering they were just sitting in a drawer collecting dust, this is a win-win situation. Sites like CardCash will pay you up to 92% of the card's value.
Additional Content for Ways To Make Extra Money During The Holidays: