6 Mins Reading Time
Weekend Cash – Make Some Now
I don't know many people that aren't interested in making a little extra cash. And if you're reading this article, I suspect you are seeking ways to score some additional dough on the weekends.
Lucky for you, there are endless options available and I've compiled a list of some that I think are easy to get started with and might even be fun! Read on for my top ten ideas for making extra cash on the weekends.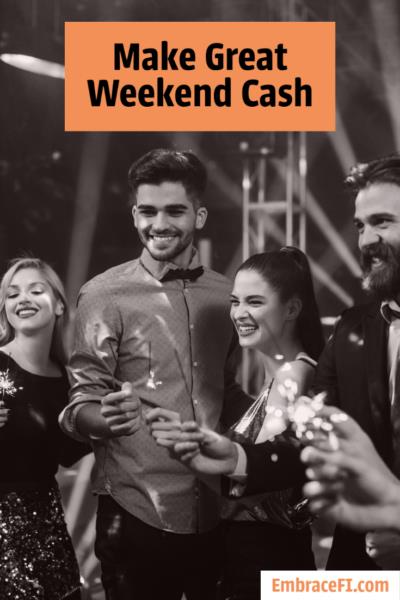 Host Your Spare Room on Airbnb
This is a great way to make some extra money with very little effort expended on your part. And the great thing about only hosting weekends (you can set your availability to accept guests in your Airbnb Hosting Dashboard) is that you'll have your home to yourself the rest of the week. Depending on your location and the size of your space, you could stand to make quite a bit of extra income from this side venture. Not to mention, you'll have the chance to meet some great people.
Sell Creative Services on Fiverr
If you are a writer or graphic designer, Fiverr is a terrific place to expand your portfolio. You can sell your work starting at $5.00. And once you build a name for yourself, the asking rate can be increased accordingly. Just make sure your clients know your availability, IE: weekends only.
Drive for Uber or Lyft
The beauty of becoming a rideshare driver is that you get to set your own hours. Moreover, weekends are the best time to drive in most major cities. So, if you're looking for a profitable weekend hustle, look no further. See my post on how to make money as a rideshare driver right here. (Insert link).
Start a Blog
What are you passionate about? You may be able to turn your passion into extra income. If you're really dedicated, you may even be able to make a full-time job out of it. But, to start, pick something you are knowledgeable and passionate about and start a blog. Make sure to dedicate time to updating every weekend (or even more frequently if you have the time). You can earn money through ad revenue as well as affiliate links and more. See my article on how to start a blog here. (Insert link).
Become an FBA Seller on Amazon
Becoming an FBA (Fulfilled by Amazon) seller is really easy. You send your wares to Amazon in bulk and they fulfill your orders for you. You can do all of your shopping and prep work on the weekends. See my article on how to become an Amazon FBA seller.
Work as a Tutor
You may offer your services as a tutor either online or in person. You can advertise your side business on Craigslist or partner with a company that helps match students with tutors. Make sure to choose subjects you are confident with and also specify that you are only available on weekends.
List Items of Value You're Not Using for Sale Online
If you are anything like me, you have a lot of clutter laying around. Or I used to, that is. Now, I collect the devices and widgets that I no longer use and sell them online. If you're looking for fast cash, Craigslist is a great place to list your wares. That old iPhone that you're no longer using can turn a pretty penny. And considering it was just collecting dust in a drawer, you really aren't out anything.
Wedding Photography
Did you major in photography in college but now work in a different field? You could put that skill to use as a wedding photographer. Advertise that you are available on weekends (when the majority of weddings take place) and start earning money. Once you've built up a portfolio, you can command a very fair rate for a day of your time.
Teach Lessons
Maybe you are musically gifted or you are an expert snowboarder. Consider putting your skills to practice on the weekends and offering lessons. Check Craigslist to see what others in your area are charging and choose an hourly rate that is both fair to you and your students. Who knows, you could end up enjoying it so much that you want to become a full-time instructor.
Handyperson
Are you good at handywork? If so, register for a service like TaskRabbit and put your skills to use. You only accept the jobs that work with your schedule (IE: weekends) and you know what you will earn for the task in advance. It's a win/win situation.
What Do You Do To Make Some Extra Cash?