8 Mins Reading Time
A Beginner's Guide to Making Money as a Rideshare Driver
There are a few hoops you will have to jump through prior to embarking on your journey as a rideshare driver:
First and foremost, you will need a four-door vehicle (with a clean title) that is no more than ten model years old. You will also need a relatively clean driving record and you'll have to be able to pass a criminal background check. Each service has different requirements for age and experience.
But if you are at least 21-years old with a minimum of one year's driving experience, you are likely to meet age and experience prerequisites for both services. Prior to being accepted by either service, your vehicle will have to pass a safety inspection. Each company offers free inspections at their regional hubs.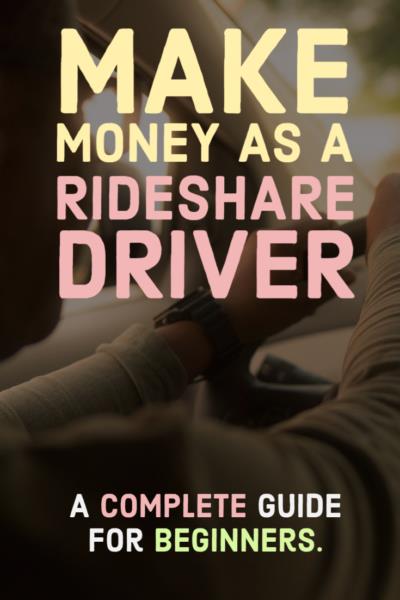 If you've got all of the above requirements squared away, you are well on your way to making money on demand! Read on for seven of my top tips for making money with Lyft and Uber!
Register For and Use Both Services
I cannot overstate the importance of registering to drive for both Uber and Lyft. If you are only registered with one service, you are drastically reducing your earnings potential.
When you are first starting out, it's advisable to master using one service at a time before you attempt to toggle between. But, once you get the hang of things, you will dramatically increase your earnings by signing into both services to minimize your down time.
Once you get a ride with one service, do not forget to sign out of the other. Uber and Lyft both track your ride acceptance rate and some incentives and rewards require that your acceptance rate be above a particular threshold.
Also bear in mind that one service or the other may be offering bonuses on top of the standard fare during times of high demand. As such, prioritizing requests from whichever service is providing more favorable incentives will help you boost your earnings even more.
Drive During Peak Hours
Demand varies from city to city. But one thing that is constant is that early mornings and late nights are the best times to earn. Weekday mornings from about 3 AM to 7 AM are predictably profitable in nearly every market by virtue of airport runs. If you can position yourself out in the suburbs, a good distance from your local airport, you can cash in on business travelers catching early morning flights. The great thing about a trip to the airport is that you can often get a trip from the airport heading elsewhere. So, you're getting more bang for your buck.
Not a morning person? Neither am I. That's not a problem. There is plenty of money to be made in the evenings, particularly on Friday and Saturday nights. A lot of drivers aren't crazy about dealing with intoxicated passengers but the high demand for rides and the driver incentives offered by both services on weekend evenings are two great reasons to brave the late-night crowd. A third reason is surge pricing. Around the time of last call, you will notice spikes in pricing and Uber and Lyft will pass along a portion of the surge pricing to your as the driver.
Know What's Going on in Your City
If you keep tabs on when your local major league sports team is playing at home or when a popular recording artist is visiting your city, you can count on high demand leading up to the event. And you can bet on even higher demand when the game or concert lets out. Thousands of people in the same area all looking for a ride home at the same time almost always translates to surge pricing, which leads to more money in your pocket.
Be Friendly and Accommodating to Your Passengers Needs
Rideshare passengers can be challenging at times. But keep in mind that they are paying you for a service and a lot of passengers will tip generously for an experience that goes above and beyond their expectations. If you have a passenger with luggage, be ready to hop out of the car and help them load their baggage (this will also ensure they don't mar your paint job when trying to cram their carry-on bag into your trunk). If a passenger is shivering, offer to turn up the heat. If your rider is responding to you with one-word answers, it's safe to assume they may want to be left alone. If your passenger appears to be in the mood to converse, seize the opportunity to get to know them. Being responsive to your rider's needs without them having to ask is a great way to keep your rating high (you will need to maintain a minimum star rating that varies by region to continue to use each service as a driver) and it will also help stimulate tips.
Be Open to Feedback
Most people don't love receiving criticism but being thick-skinned when it comes to feedback from passengers goes a long way. If you are quick to adapt to suggestions from riders (either verbally or provided through the app), you can avoid receiving the same criticism in the future and increase your odds of getting tipped by passengers you ride with down the road.
Hold Yourself Accountable
When it comes to rideshare driving, you are your own boss. If you oversleep or decide to take a day off because you don't feel like driving, there is no one looking over your shoulder or providing repercussions. This can be a double-edged sword. On one hand, the freedom and flexibility are great. But on the other, if you don't force yourself to get out there and make money, no one else will. Whether you are ridesharing part time to make extra cash or trying to make a full-time living, you have to be the one to keep yourself on track and ensure that you stay motivated.
Save for Taxes
Keep in mind that when you are working as a rideshare driver, you are responsible for paying quarterly taxes. Uber and Lyft will not deduct them for you. A good bet is to save 30% of your gross earnings for the IRS. After you've filed your annual taxes, you can figure out what percentage you were taxed at and adjust the amount you need to put away going forward.
Make sure to track your mileage. Uber and Lyft will keep tabs on the actual miles you spend with a passenger in your car but the miles you drove to retrieve a passenger are also tax deductible and can make a big difference in determining the rate at which you are taxed.  There are a number of mileage tracking apps available. Investing in one will save you a lot of headache when it comes to calculating your mileage.
Related Articles On Making Extra Income:
Have you been paid as an Uber or Lyft or other rideshare driver? What was your experience?