12 Mins Reading Time
Beginners Guide to Making Money with A Shopify Store
Shopify is a subscription to a software service that offers you the ability to create a website to sell, ship, and manage your products. One of the most popular ecommerce platforms in the world, Shopify has made it easier for everyone to participate in the world of online shopping.
For a monthly subscription fee of $29 month, you can build a fully functioning online store that you can use to sell digital or physical goods. Shopify also offers a 14-day free trial so you can get your bearings building your store and getting to know the software.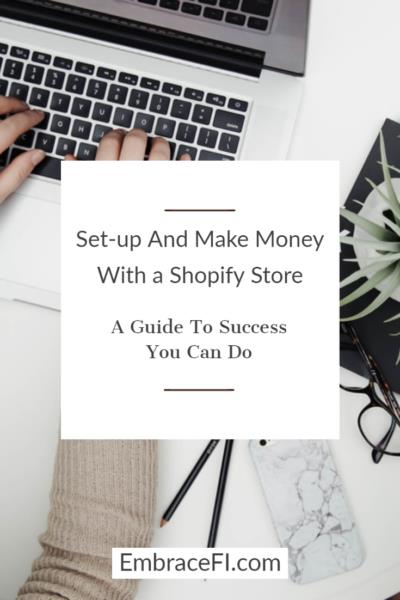 Don't be tempted by quick store builds to rush in full steam ahead as you may burn out not only your funds, but your will. Creating a store is a very small percentage of your work, and to build a profitable store requires an ongoing labor of love. Many people become disheartened by lack of traffic or sales early on and do not continue to drive to get them. These people will then say that the model doesn't work after trying it for just a few months max.
There is a difference between creating a Shopify store and a creating successful Shopify store.
Creating the store alone won't bring you customers and revenue, you'll need to put in the time to know your target customers, market to them, engage with them and continue to analyze if your store is delivering what your buyers are looking for.
–
Now let's go over some tips and information to get you building that ecommerce store you've been thinking about, and make it a successful one!
First thing, decide what you're selling!
When choosing a product, people often either pick a product on a whim, with little consideration, which ends up wasting a lot of time and effort, with little or no results. Or by spending weeks and weeks looking for a perfect product idea, then choosing one of the first ones they thought of, again wasting time and effort with little or no results.
Unless you already have your product in mind, before you decide, browse other stores for product ideas, follow Google Trends and social media shopping apps/pages to see what products are trending.
Avoid broad categories, stick to niche products that aren't saturated by larger players in the market. For example, specific sports gear for cyclists or fashion for plus size women.
While high priced items are tempting, I would suggest looking for products with a decent retail price range of $30-$70 as profits are relatively good and the purchase requires less consideration from the buyer when the product is at a moderate price.
Here are just five areas you can get into and offer at a good price to the customer with a decent profit margin to work with;
Fashion
Retail can have great profit margins depending on the material of your products, exclusivity and trend at the time. There are a number of different aspects to get into such as arbitrage, drop-shipping or custom-made clothing. If the latter is your thing apps like Printify on Shopify simplify the process of designing and delivering your own custom-made clothing.
Art and Prints
Whether you're a painter, illustrator or photographer you could sell your work as prints, canvases, and more using Printful, or again Printify. This is a fantastic way to turn your art into something tangible that people can take integrate into their home.
Jewelry
Accessory jewelry and costume jewelry has become big business, and there are new businesses springing up every-day. You can make a side wage quickly should you get a good, niche or trendy product and market the product correctly.
Pet Products
Everyone loves their animals and they will spend lots of money to keep their pets happy, healthy and loved. Look at the trends on Google Trends and social media to decide which item/s are in demand to see what you could start selling.
Subscription Boxes
Subscription boxes are themed packages of various products. There are subscription boxes in pretty much every industry and you can curate a subscription box around virtually any theme. I helped to get a subscription box called Box of Goth to market, and can vouch for the success of the model. By the time I started the marketing there was already some hype around the product, which greatly helped me to market the product, which I'll get into more a bit later. Shopify has a number of apps to help get a subscription, reoccurring-billing business model off the ground.
–
When it comes to building a profitable ecommerce business, choosing the right product is the most important piece of the puzzle. To do this you need to evaluate the market demand, existing competition and viability of the product itself. Get the product wrong and you run the risk of wasting your time and energy, or worse, sinking a bunch of money into inventory you can't move. Get the product right and you could set yourself up for sales and success.
The majority of online stores fold because they're unable to drive traffic.
A great myth is that having the right products, a beautiful site design, and stunning product photography is all that's necessary to get people to buy. Those are just the entry stakes. That is unless you're launching your store to a group of people who are interested in what you're doing in the first place.
Most stores start out by not launching to the right people, if anyone at all. This can force you to scramble for buyers, heavily discounting items or creating posts and marketing ads that sounds desperate, and more likely to put buyers off than draw them in.
Now here's a suggestion, what if you built an audience, secured it and validated your product before launching it?
Instead of launching your store and hoping people will come, launch only once you're confidently that 100, 1000 or 10,000+ people would be exposed to your site on launch day?
The idea is quite simple: don't launch the store until you've secured the audience. That's actually what Box of Goth did by building interest in the product three months before actually launching anything. When it came to marketing the product to people who had already been hyped about it come launch day, we we're able to build sales quickly. It is now a successful subscription box service offering goth and horror inspired goods in a coffin shaped box!
Start by creating a social media page, preferably in a name you like for your business but this may be able to be changed later should no-one have the name you desire later on. I'd suggest Facebook Instagram (as they work together also when it comes to marketing) as they're the easiest ones to catch a potential buyers eye with your content.
Post about your new product, tease information and exciting parts to gage interest. Find an account who does the same product or near to what you're going to do and follow their followers. Most people will follow someone that follows them back, but don't do the follow and unfollow a day or two later, people don't like that. Whether they did like what you were going to be selling you could easily put them off doing that.
Continue this until you've built up a following. Continue to post interesting posts that bring excitement to your product. Engage with comments, like followers posts and while doing this get your site together with a landing page to collect email addresses.
Also build a contact database with influencers who have good relationships with their followers and get high engagement so you have people you to push for collaborations or paid marketing. Social media influencers are highly beneficial in getting your product out there.
So once you have the product decided, you need to get that name decided and secure, preferably asap as trying to get social media handles and domains in names you want can be tough.
Get a domain name from somewhere like godaddy.com so you can secure you brand or stores name. Once you have your store trial going you can set up the domain to link to your store. You'll have a prompt to do this and Shopify support is super helpful and easy to contact through the support forum you can access via your store.
To get your store going register for a free Shopify account. With Shopify, you can create your store in just a few clicks and all of the server setup and maintenance is taken care of for you. Just go to Shopify.com, click "Start your free trial", enter your store name, and click "Create your store". After you've signed up, you'll be directed straight to your store admin screen. Now you are ready to start customizing your store, uploading products and setting up payments and shipping.
There are tons of things you can do to setup and customize your store. I suggest focusing on the essentials. You can always come back to change some things after you've validated your idea.
Choose your stores theme. Visit the Shopify theme store and choose a theme that you like. There are many free options to pick that will serve your needs just fine. Again you can always come back and easily change or update your theme. I recommend using a theme like Simple that doesn't need many changes to get going. Once you've found a theme you like, click the green button. Shopify will ask you to confirm that you want to install this theme.
Now if you like designing, this is where the fun comes in! If you're using Shopify's free trial, before you pick a plan, you will have a Coming Soon page by default and this can't be disabled until you choose one of Shopify's plans.
This basic design includes a password lock to prevent anyone from accessing you're store and it's a great tool to collect emails from potential customers and people with interest to your products, while you design and populate it.
Only the password page of your store is found by search engines. Other pages, like product pages, are hidden, and search engines won't display these pages in search results until you're live.
To edit your store's look, go to Online Store – Themes – Customize Theme. On the right-hand sidebar you'll see each section of your theme: Header, Slide, Body, Footer, etc. Play around to get the feeling of what can be done with the theme. You'll see Shopify has made it easy to customize the pages and remove or add what you need to build a professional looking website.
If you don't have any design skills, get someone to make a professional logo for you on an app like Fiverr. Once you have it add your logo to your site and continue to customize your site and get your pages ready. Remember don't be too fussy and waste too much time, maybe get an honest friend or family to look it over and give you their feedback at different times of the process.
Content is important but the following sections should be enough to start with: About Us, Terms & Conditions, Privacy & Returns Policy, Shipping & Delivery Information, and Contact Us.
To create a page, visit – Online Store – Pages – Add Page.
The About Us page is where people will go to learn more about you when they're still deciding if they want to buy or not. It doesn't have to be an essay you can keep it short and sweet for now and update it later.
Sometimes people like to know about shipping and delivery so make the information clear with prices and courier information.
People definitely like to be able to contact a company so make sure to place a clearly visible contact us link to your store that enables them with either your contact information there or a contact form.
You'll need to add the required policies pages to your store. To quickly create basic policy pages for your store, go to Settings – Checkout and scroll down to the Refund, Privacy, and TOS statements section to generate each policy sample.
Connect a payment gateway so your customers can make card payments on your store. You can activate Shopify Payments from the Payment providers page in the Shopify settings. Shopify also makes it easy to add Paypal and Stripe Payments.
Adjust your shipping settings by going to Settings – Shipping, and add all zones that you will cover and add the rates to for zones.
Before launching your store, you'll need to enter your Shopify billing information but you won't be charged until your 14-day trial ends. Navigate to Settings – Account and enter your billing information.
–
Your store is now ready! Remember to remove your store password when you're ready to launch. Access this option under the "Settings" menu and then select "Online Store." Scroll down to the "Storefront Password" section and make sure the "Password protect your storefront" checkbox is not checked.
Don't be disheartened along the way to building you store, be proud you're giving it a go. Take your time but get it done at the same time. The Shopify community is massive and engaged, and it really feels like they're all there to help each other, along with great support from Shopify itself. A rare feat with a company as big as they are and it is a credit their customer service.
Build your audience before you launch, make your product good and your store attractive, and you could be well on your way to having your own successful Shopify store. As a side note, you can also sell similar products or some/all of your inventory on Amazon. Make sure to read out Guide To Selling On Amazon for more info.
Additional Articles You Should Read When Setting Up a Shopify Store:
Have you set up a Shopify Store or are considering to do so?