8 Mins Reading Time
How to Get Paid to Play Games
Do you like playing games? Do you make up idle time with a fun app on your phone? With all the ways you can make extra money in 2020, why not make a little extra cash doing something enjoyable?
Despite what your 8th grade English teacher might have told you, earning money to play games is now easier than ever! There are many websites and apps that will let play games for free in exchange for a points reward system that can be redeemable for cash prizes and gift cards.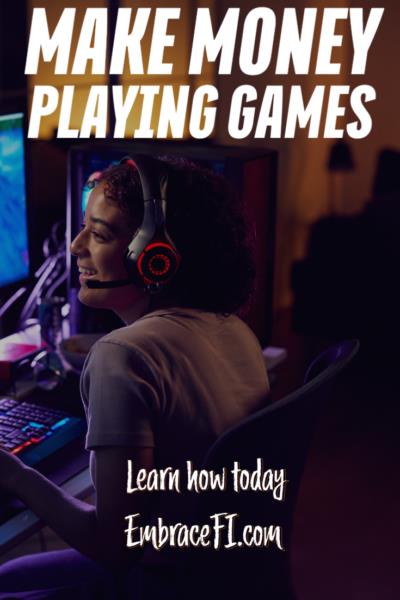 These apps pay anywhere from a few pennies to a few dollars for your efforts, so playing games for pay won't bring you big bucks, but it could help clear a few bills, or assist in putting some money away for a rainy day
Sign up at Paypal if you haven't already, because most of the deliveries will be made through PayPal and most websites will reward you in the form of points in which you can redeem them later on.
Here are several ways you can earn and game at the same time.
Swagbucks
Swagbucks is the most popular cash reward website on the Internet which has more than 10 million active users. Swagbucks have countless ways to earn points, including watching videos, playing games and simply using their search engine.
If you have a habit of playing video games or watching videos, then this is the best way to get paid to play games online. Swagbucks rewards you for things you're already doing on your phone, so it's a great app to take advantage of.
The app tracks your activity and awards you "swagbucks" points called 'SB points' which can be redeemed as Amazon gift cards or PayPal cash.
You can also get a $5 welcome bonus just for joining! Why not get started today?
Inbox Dollars
If you're more interested in earning cash than rewards points, Inbox Dollars is an excellent option.
InboxDollars has millions of active members with find a vast selection of games to play in order to earn cash. Average earnings per activity range from $0.25 – $5.00, so it's easy to accumulate a significant amount of savings very quickly.
InboxDollars is unique because you can redeem your earnings for actual cash instead of gift cards and physical prizes.
You can also get a $5 bonus for signing up with InboxDollars today!
Mistplay
Unfortunately, the app is only available on android so that IOS users will miss out on this opportunity but Mistplay is great app to make some extra cash for playing games and giving your opinion on them.
Gamers earn rewards in form points that they can later redeem for prizes. The longer you play the more points you earn. Depending on the games you play on the app, you can earn between 20 to a maximum of 200 points.
For every 1,500 units you have, you may redeem $5 in terms of Visa Card. For 3,000 total units, you redeem $10 in form of Steam Credit. The only major drawback with Mistplay points is that you cannot redeem them for cash. Visa cards, as well as Steam credits, are the only options available for you.
It's totally free so what have you got to lose in trying it?
Coin Pop
There are two ways to earn money on Coin Pop, by playing games and with friend referrals. The first is by simply downloading their suggested game apps and playing.
Coin Pop games are addictive as you can play scenarios such as building a city of your dreams or fixing up a home and garden.
Coin Pop pays after a time period on a game app, for example, playing Coin Master for 5 minutes earns an average 600 coins. For each friend that you refer that joins Coin Pop, you get 250 coins plus an additional 25% of all of the coins that they earn for a lifetime, without taking away from their earnings at all!
You can cash out to PayPal once you reach a minimum of 4,999 coins.
MyPoints
MyPoints pays you to play games, shop online, watch videos, complete surveys and more.
Like InboxDollara, MyPoints also has a great referral in which each time you refer a friend that signs-up using your link, you earn 10% of their earnings for life without taking away from their earnings.
MyPoints is available for both iOS and Android devices and you can claim gift cards from over 75 different retailers. You'll need at least 3,970 points, which yields a PayPal payment of $25 to cash out.
You can earn 60 points just for joining and completing your profile at MyPoints. Membership is free, and it only takes a few minutes to join. Give it a try!
GetPaidTo
If youre good at Puzzles GetPaidTo may be for you. Playing games such as Sudoku, Word Search or Crosswords on GetPaidTo it's an easy way to earn money online and get paid for your time.
You Earn 3 points to start and finish each game you play plus you'll also earn 2 points per minute played. Points earned are limited to 3 minutes per game. You have to make sure you exit all games by clicking Continue, Exit, Quit or Submit Score to receive your points.
GetPaidTo also rewards you for things such as cashback on your shopping to points for listening to the radio. Also like others mentioned, when you have refer your friends to GetPaidTo, you will earn 15% commission on any points that they make.
There are many games under GetPaidTo where you could make enough income to fulfill your basic bills.
VeryDice
VeryDice is a mobile app that pays you to play games directly from your smartphone. It is both easy and addicting to play as the game is so simple. All you need to do is roll the dice. Each day the app gives you a number of rolls when you spin the wheel. You can also earn extra rolls of the dice by completing surveys, offers, or watching videos on the site.
Points can be exchanged for actual prizes or for a gift card of your choice.
Skillz
If you're into big game tournaments or super competitive, Skillz could be something for you to try.
Skillz is a multiplayer tournament platform that lets you compete in mobile games with other people around the world for either real cash or our virtual currency. Skillz hosts 50,000 micro-tournaments everyday across 150 different games. To date, more than 100 million eSports tournaments have been held on this particular platform.
Skillz is free to join, and each Skillz-enabled game has numerous free-to-enter tournaments, but Skillz also offers tournaments featuring real-money prizes which cost as little as $0.60 to enter.
You are paid based on the cash entry fees players pay in your game and receive a 50% revenue share! You can also withdraw your winnings any time not matter the amount.
If you're a big gamer, Skillz could be a great way for you to make more money here than most!
–
So if you have some idle time traveling to or from work or at home in the evenings, why not give some of these apps a try and see what money you can start putting away for a rainy day. If you already play games regularly during the day this is a winning opportunity for you to make some extra cash just for playing games!
Additional Articles for Making Extra Money:
Have you played games to generate extra income? What was your experience?