10 Mins Reading Time
10 Work from Home Jobs That Earn Over $1,000+ A Month
Working from home can be a great way to supplement your income and with the added bonus it's from exactly that; the comfort of your own home.
There are many reasons why you may be looking to start working from home, but the general flexibility a work-from-home job can bring can open a number of different life, work and social opportunities.
No matter what, nowadays, you should be looking at ways to bring in more cash every month and the Internet has opened so many different opportunities to make money.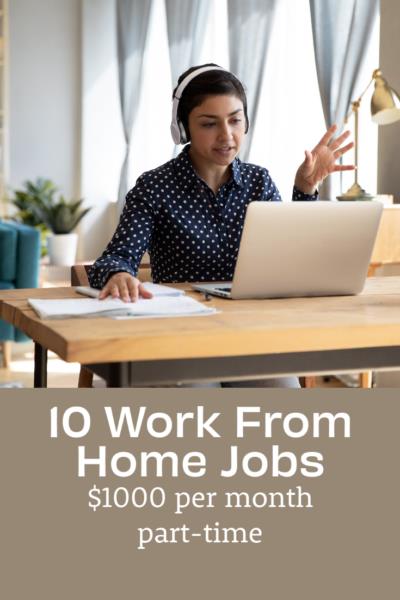 Most people are skeptical when it comes to making money online simply because of the many scams out the, they either aren't aware of the options or how to start, or are not willing to put the work in to make it work!
We're going to look at 10 work from home jobs that could legitimately bring you a minimum of $1,000 a month should you put the effort in.
ONLINE TUTORING
If you like teaching in a one-on-one setting and using technology for education, online tutoring has the potential to make extra income outside of your teaching or in-person job. There is also an opportunity for tutoring online to become a full-time job if you're able to expand your tutoring business to the point where you have enough students to fill a full-time schedule.
Parents will spend lots of money to help their kids succeed in school, after school activities and sports. Tutoring is a highly popular and sought after and a great way to make a nice chunk of extra money each month.
As long as you know more about a subject than the average person, most specifically the children and teens you'll be teaching, and are good at explaining things, you can be a tutor. Some parents may want you to have certain teaching certificates or grades but if you can adequately and professionally do the job parents are willing to part with their cash to help their child along.
Online tutors can earn between $10-$35 per hour.
HOME CUSTOMER SERVICE
Though many have ditched the landlines these days, if you have a home phone, computer and internet, answering customer service calls may be for you. Lots of big and reputable companies hire at-home workers to handle customer service calls due to the explosive growth of the Internet and communication apps.
Home customer call jobs can be done around the world, though many companies will hire employees who live in specific locations or countries. These jobs can be full- or part-time. Depending on your time zone, you may be able to find work during days, nights, and weekends.
Pay can be anything from $9-$18 per hour.
FREELANCE WRITING
Freelance writing is a sustainable way to make extra money online as websites constantly need written content, including blog posts, video scripts, website copy, and more.
With a bit of patience and practice, anyone can produce content that someone is willing to pay for, but if you already have the writing skills then freelancing is overall one of the best work from home jobs. There are so many different types of services you can freelance from home such as a:
Web developer
Graphic designer
Copywriter
App developer
Data entry
Transcription
Sound design
Your pay will depend on your level of experience; a starting writer can easily charge $20 for an article. More experienced writers can charge $50/article or more, depending on the length and subject matter.
You can start finding writing jobs on freelance job boards like Fiverr, and ProBlogger.
START A BLOG
Starting a blog to make more money is more of a future earning possibility as you'll have to start your blog and find readers, write epic content regularly, connect with your audience, obtain advertisers etc, and this all takes time. Once your blog is off the ground and you have a regular audience, the possibilities for making money become much more obtainable.
With a blog, you earn money through displaying ads, sponsored posts, digital products like ebooks and courses, affiliate marketing and more. Blogging can open up so many doors for earning income if you are willing to put in the time.
Blogging is sharing stories, ideas, information and teachings with other people. The beauty is that it can be about absolutely anything. You also don't have to be an expert on a topic but willing to research and put in the time to make your content interesting for others.
Just remember that it can take time to start earning income from blogging, but once you do, your earning potential is almost limitless.
START A YOUTUBE CHANNEL
Like blogging, starting a YouTube channel is another way to offer your knowledge, ideas and opinions or simply entertain if that what you like to do.
You earn income in similar ways to blogging, starting slow and building your following as you put work into your channel. You need 10,000 views before you can embed ads into your videos but with YouTube becoming the modern day TV, with engaging, interesting or funny content those views are easily obtainable.
There are a number of YouTube stars that make millions of dollars each year, with many more earning hundreds of thousands, so the possibilities are endless and exciting. If creating fun or interesting content is your thing, get yourself onto YouTube.
LIVE CHAT AGENT
If you like the idea of customer service but are like me and prefer to stay off of the phone, online chat based customer service jobs might be much better suited for you.
Not only does it give you the flexibility on staying at home, but a decent pay for sitting on your butt all day! Just like call customer service agents, with the rise of online businesses and people not wanting to sit on the phone to someone and heading to live chat instead, companies are constantly looking for live chat agents to handle their customer service.
The average pay for a chat based customer service jobs is around $10/hour.
WEB DEVELOPMENT
Nearly every company out there has a website these days and now is a great time for anyone with web development skills to make some serious money.
If you don't already have web development skills you find a number of guides and web development tutorials on Skillshare, and you'll soon have all the tools you need to build beautiful, functional websites for just about anyone.
According to Indeed.com, the average entry-level front end web developer makes $61,512 a year working full-time in the United States. Very nice money for entry level!
GRAPHIC DESIGN
Companies aren't just hungry for web development and written content; they're also constantly in need of graphics, illustrations, logos and other graphic design assets.  If you're artistic or enjoy design, this can be a great way to make extra money or have it become a full-time job.
You can learn graphic design and there a lots of avenues out there to help assist, but you should understand it can take time. You'll need to understand the technical skills and be able to use apps like Adobe Photoshop and know the fundamentals of design like types, composition and white space etc.
According to the Bureau of Labor Statistics (BLS), the average annual graphic designer salary in 2018 was around $50,000!
RETAIL ARBITAGE
Like hunting out bargains and rare finds in the thrift store or Wal-Mart? Then finding items that you can re-sell online for a profit might be right up your street!
Most people generally use platforms like Amazon or eBay to do this, though you could also look into a more specialized platform such as Etsy if you're focusing on handmade or vintage goods. (More on Etsy to come)
If you have a hunch for knowing what people are buying or the latest trend wholesale buying items and re-selling them for profit is also a great money maker. Though be warned, if you can lose some money by picking the wrong product and it just not shifting, or having to drastically slash prices to below your buying price just to get rid of them. Pick the right products or rare items and get it right and you will be surprised at how much of an effective way to make money online it is.
This can be from household items, toiletries, stationery, clothing and rare exclusives, to movie memorabilia, classic vinyl and so much more!
The possibilities are endless to make money if you're good with buying-and-selling.
SELL ON ETSY
Do you have a creative side? Passion for knitting? Know how to craft jewellery? Whatever your creative flair is, Etsy is a great place to share your passion and possibly get paid for it.
With Etsy you set your own prices, and Etsy takes a small commission each time you make a sale. If your pictures of your products are eye-catching, along with compelling descriptions and most importantly a good product, Etsy brings a loyal type of crowd that will keep coming back to a great seller for more items.
If you've got the skills and time to put into your creative juices, then you could certainly build up a part-time or full-time job working from home with Etsy.
—
Being able to work from home is flexible and opportunist, and making an extra $1,000 a month really doesn't need to be too difficult. You just need to decide what you're going to go for and put in what you need to make it happen. Pick something from the above list that matches your skills and interests, and most importantly available time. Most people fail because they simply do not put in another time and effort into their ventures.
So what are you waiting for? Get started on making that extra $1,000 a month!
Remember, with as little as $10 a month, you can retire a millionaire. $100 a month and you retire sooner. $1000 a month and retire a decade earlier. Through the magic of compounding returns (remember, Einstein himself talked about this), the sooner you do this, the sooner you reach financial independence. So start today, you will get there and we can definitely help.