11 Mins Reading Time
Great Money-Making Online Businesses You Can Start for Less Than $200
Ever dreamed of becoming an online entrepreneur? Does your current financial situation stop you from taking the leap? A lack of money should not be your excuse as to why you can't step into the world of entrepreneurship.
There are many successful businesses operating today that have been built on a shoestring budget, and you can start a business online now for less than $200 that will provide you with extra income, or even go-on to become your main source of income.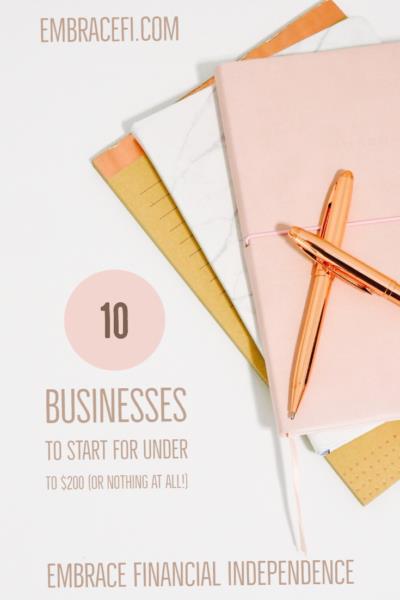 Starting something online is an obvious way to keep start-up costs low, and the great thing about entrepreneurship is that success is based on hard work and the ability to plan your actions strategically. The options I am going to list here don't require significant financial investment, making them easy to start almost immediately.
Building a successful business isn't easy, but if you're willing to try, and you approach the process the right way, there are hundreds of businesses you can start for less than $200.
Blogging For Profit
Do you love to share knowledge? I know I do! Starting a blog is a great business option for you to consider.
Blogging is about communicating your knowledge about a specific subject and sharing that knowledge by writing about it. Blogging can be a great way to earn a full-time income. You can earn money through ads, courses or even affiliate marketing.
You can start your blog for less than $100 by deciding and buying your domain name with sites like GoDaddy. Then you'll have to create your website with sites like Shopify if you have no website making knowledge, or WordPress if you already know your way around the application. Future costs will be based on where you build up your site, maintenance, domain and hosting costs, and possibly more if you have products. There are many bloggers who make over $50,000 annually so it can be a real money-maker if you're willing to put in the time.
Vlogging For Money
Like blogging, vlogging is sharing your knowledge, experience, skills or entertaining but doing it via videos. These videos are typically uploaded to sites such as YouTube or Vimeo, allowing others to view them and follow you. Most vloggers or video bloggers, create content on a regular basis and keeps their fans up-to-date with what's new videos, how-to videos, and other topics that are in demand.
In order to monetize your channel, you need to hit at least 4,000 watch hours in the previous 12 months and have at least 1,000 subscribers. Then you can apply for the YouTube Partner Program and begin showing ads in your videos, monetizing them. Every time someone sees an ad on your videos, it counts toward your account. At 10,000 views, the potential to get paid truly begins,
Separate from ads, your vlog can serve as a great promotional platform for your own products or aesthetic elements like logos or icons. If you build up a solid fan base, you can sell souvenirs like T-shirts, bags, water bottles, keyrings and other merchandise with your name, brand or other identifying elements.
You can start vlogging with your phone straight away and you don't need to be a dab hand at editing but it will help. Future investments maybe needed from editing costs, to lights and cameras, creating merchandise and more, but put in the work, time and effort needed and vlogging can bring in some serious money.
Drop-Shipping For a Steady Income
At its simplest definition, drop-shipping is a form of order fulfilment where the supplier handles shipping. Drop shipping is still profitable in 2020 as estimates vary, but industry watchers have found that between 20-30 percent of online retailers use drop shipping, even big retailers like Amazon use drop shipping.
With drop shipping, you can sell just about any product in any niche. Considering that just about any product can be bought on Amazon.com, if it's for sale on Amazon then you can probably sell it with your own drop shipping business as well.
You can also go on Instagram and see what all of the popular instagrammers are promoting to get an idea of what you should sell. Figure out your niche, find a dropship supplier, choose a selling platform and start promoting your store!
The beauty with drop-shipping is you don't need to physically have the product. You find the products and promote the products on your own website, and once the item is sold the supplier handles shipping. You receive whatever profit "on-top" of what the price of the item is for the supplier. For example, if the supplier is offering a t-shirt for $10 with free shipping, offer it for $25 or more with free shipping on your store to make $15 just for promoting that product!
Sell Crafts and Make Cash
Are you dab hand at design or have crafty fingers? You could turn your hobby into a money-making venture by setting up a shop on Etsy.
You can set up by making pretty much anything, from greetings cards and candles, to bath bombs, t-shirts, bags and jewelry. As long as they're hand-made, hand-printed or vintage Etsy is a great platform to put items like this out to the world. Etsy has nearly 1.9 million active sellers and over 39 million active buyers, so there's definitely an audience out there if you can make something that people will want.
Start by creating just a few of a certain item like a jewelry piece and see how sales go before going mad on materials. With a good product the average seller can make around $300+ a month using Etsy.
Online Tutoring That Pays
Parents will spend lots of money to help their kids succeed in school, especially the teaching of the English language if this is not their child's first.
If you like teaching in a one-on-one setting and using technology for education, this could be a great money earner for you. English teaching has become even easier than ever to do thanks to many online teaching services. English teaching jobs are in high demand from all around the world and programs such as VIPKID guarantee that you'll make anywhere between $14 – $22 per hour. While their interview process is strict it's totally worth it if you get in. You could expect to make $2,000+ per month just working between 3- 5 hours per day.
You'll need access to a laptop or computer with internet access to get started, but you may need additional teaching materials down the line.
If you don't qualify for VIPKID, there are still plenty of other programs you can apply to.
Graphic Design That Pays Well
Are you creative? Maybe you love to draw, have an eye for pictures, or can work Photoshop like the best of them? Then starting your own business selling your designs and photos could be the perfect business for you. Companies are constantly in need of graphics, illustrations, logos and other graphic design assets.
You can learn graphic design and there a lots of avenues out there to help assist, but you should understand it can take time. You'll need to understand the technical skills and be able to use apps like Adobe Photoshop and know the fundamentals of design like types, composition and white space etc.
Graphic design could be a nice money maker as according to the Bureau of Labor Statistics (BLS), the average annual graphic designer salary in 2018 was around $50,000! You'll need access to a laptop or computer with internet access and an app such as Photoshop which can be around $100-$200 depending on which version you have to get started, but you may need additional materials down the line.
Social Media Management Can Make Money
There are many social media platforms now and businesses need help using them to reach their customers and to promote their products and services.
Of course, if you're going to help others with their social media presence, you need a presence of your own. To be credible you'll need at least 10,00 followers on your socials for companies to take your services seriously.
The main start-up cost is your time to grow your own presence online. You'll also need a laptop with internet access and a domain with website hosting (around $50 a year), to look professional with your services.
Affiliate Marketing For Profit
Affiliate marketing is one of the oldest marketing practices which gains affiliates a commission in the case of sale based on the affiliate's recommendation. It is one of the cheapest and easiest ways of marketing as you don't need to create and sell a product. Just one thing you need to do is to enable a linked connection between buyer and seller and take your commission when the sale is made.
Affiliate marketing is a simple 3-step process:
You recommend a product or service to your followers.
Your followers purchase the product or service using your affiliate link.
You get paid a commission for the sales made using your affiliate link.
If you have a semi-good following, find a niche product with high demand and a reputable affiliate offering nice commissions. All that is needed to start-up is a computer with internet access and the time and patience to find the right products. Offer them to your followers and gauge which products they're raving about and buying, and which products are falling flat.
Homemade Natural Products That Sell
People are moving towards natural products to receive the best benefits and its big business. In a 2017 survey among U.S. consumers, 52 percent reportedly used skin care products every day! If natural products are already your thing, this could be a great business to start as you already know what you like or what works.
Be careful in using the word "organic" on labels or signs though, this term can only be used in conjunction with certified organic materials. You can use terms like "toxin-free" or "all-natural". You should also educate yourself on any local laws related to selling homemade products. Be sure to have enough product to sell, but not so much that you have too much stock left over. Also be prepared to answer questions about your product. What's in your soap? Is it all natural? Be prepared for these questions, and also take suggestions from customers as if they like something they'll keep coming back for different products.
For something like soap you could expect the materials, labels and domain with hosting (you could start straight away with a site like Etsy) to cost between $50-$200. It's then taking the time to promote your product on the many social media sites that beauty consumers scour for the next big thing.
Ebay – Yes, You Can Make Good Money on Ebay
Are you good at hunting out a bargain? Ebay is the gateway for selling old items around your house, unique or rare finds and large quantities of products to many people around the world.
If you have a hunch for knowing what people are buying or the latest trend wholesale buying items and re-selling them for profit is a great money maker. Though be warned, if you can lose some money by picking the wrong product and it just not shifting, or having to drastically slash prices to below your buying price just to get rid of them. If you are an effective seller, you can make a great living through eBay.
Research what's selling on eBay and Amazon currently and decide what your starting product/s will be. Always buy within your means. You can also branch out to selling on Amazon.
Have you started an online business for under $200? What was your experience?