17 Mins Reading Time
50+ Ways to Make Extra Money Today
Want to learn new ways to make extra money? You've come to the right place! There are all sorts of opportunities out there to make some extra money if you're willing to put in a bit of effort, and I'll be going through many of them here. Some people may be sceptical when thinking of ways to make money online, but there are many legitimate online jobs, business ideas and much more where you can earn a full-time living, or at least a side income. Your current job is not your only option out there!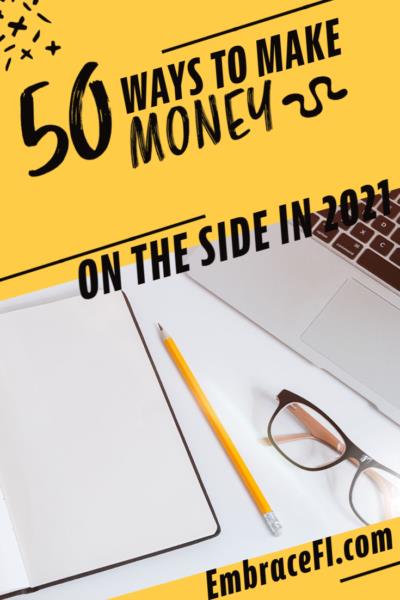 By helping you to become more diversified with the way that you make money, it will help you to start paying off your debt, put more towards savings, and work towards financial independence.
If you're already employed and not interested in learning ways to make money through a side hustle, online business, or taking a part-time job, then you may want to see if you can earn more at the job you already have.
WORK OVERTIME – One of the easiest extra ways to make money at the job you already have is to see if your company will allow you to work overtime. In many cases, overtime is welcomed. What's an extra hour or two when you're already there? You could earn a decent amount of extra money by doing this.
TRY FOR A PROMOTION – If one presents itself try for a promotion at your company, a possible move may result in an increase in pay.
ASK FOR A RAISE – If no promotions are available why not ask for a raise? Asking for a raise may be the best way to make extra money at your current job. Many people never ask for a raise, which is money that may possibly be left on the table. Your worst outcome is they say no and you're exactly in the same position, but if you don't ask, you definitely don't get!
Another great way to make some extra money on top of what you earn is simply to make the money you have work harder.
GET CASH BACK AND BONUSES – There are many credit cards out there that will give you cash back just for using them. If you are good with credit cards (please do skip this if you are not or currently in high credit card debt), this is something to look into as you can make money without having to do much. Cashback credit cards reward customers every time they make a purchase. You receive a percentage of your spend back on your card as credit. By putting your everyday spending on the card, you could potentially earn hundreds a year. However, it's important to avoid spending more than you can afford to pay back at the end of the month, as the interest charges are likely to outweigh any rewards.
USE DEBIT CARD CASHBACK – Many banks now have debit card cashback schemes, that, just like with credit cards, every time you make a purchase you will be rewarded. The schemes vary significantly, depend on your bank and usually have to be switched on. See what your bank has to offer you today!
USE CASHBACK SITES – With cashback websites, you can earn money while shopping online. Every time you buy a product or service, a cashback website will automatically pay you. Sites like Swagbucks will reward you for lots of things from your weekly groceries to switching utility provider.
PAY OFF DEBT BEFORE SAVING – Ensure you pay off any debts before trying to save money. If you make the mistake of having money in a savings account while trying to pay off large debts, you'll be throwing your money away. The amount of interest you're charged is likely to be a lot more than what you earn in interest on savings. Paying off a credit card that attracts a hefty APR would more than likely save you at least x5 more than having your money in a low interest earning savings account.
INVEST –  There are no guarantees when it comes to investing, but you should always start sooner rather than later. Start investing with spare change with platforms such a Motif or Acorns that make investing even more approachable for those with no knowledge.
There are also so many ways to make money online you're a bit spoilt for choice, from selling your stuff, buying-and-selling, giving your services and opinions, to starting your own online business.  There are also a number of other ways that don't require you to be online (much) if you'd rather get physical to make some extra cash. Here's some of the ways you could start making extra money this year:
SELL YOUR OLD BOOKS – There are now many online stores that will buy your old books from you, including Hpb.com or Bookscouter.com.  Also most university bookstores have a buyback option.
RECYLE OLD MOBILES – I used to leave old mobiles sitting around in case I needed a back-up but nowadays smart phones are just that! I do not need to keep old mobiles and you shouldn't either! If you have any phones lying around the house, there is extra money to be made from your old phone. You can sell your mobile phone on sites such as Envirofone.com and Mazumamobile.com. Enter your phone's make and model and you will be given a quote. If you choose to go ahead with it, you will be sent a freepost prepaid envelope to send your phone back in. Once received and confirmed you'll be paid! Easy!
SELL ON EBAY – Whether you have old clothes, old mobiles (you could get a better offer from here than the above), electronics, a car, unused beauty items and so on, eBay can be a great way to sell many different types of items. It's very easy to get started, and with eBay you have an instant worldwide reach if you want to, which can be great if the market in your area isn't large enough.
SELL ON CRAIGSLIST – While maybe not the most used nowadays, Craigslist can be a great way to sell your items, often with a potential to earn a higher value for them too. However, be safe, because you will have to meet with strangers to complete the transactions.
SELL ON GUMTREE – Gumtree is great to reach people searching for specific items like cars, rooms to rent and services such as odd jobs and babysitting. If you're looking to sell an item or advertise a service, you should get yourself on Gumtree to reach a potentially wide audience.
SELL ON AMAZON – Amazon FBA (fulfilment by Amazon) is one best ways to sell unused, new and everyday items and much more. Even with stiff competition, with a known worldwide reach, Amazon is one way to get any new selling venture off to a start.
SELL ON ETSY – If you're a creative head and a hand for making items, Etsy is a great place to sell your craft items. It's also great for t-shirt printers, craft supplies, niche handmade accessories and more. If you are a crafty person, definitely check out Etsy if you are looking for ways to make extra money in 2020.
DO A GARAGE SALE – A garage sale can be an easy way to make extra money because people come straight to your home. While you usually wouldn't make as much for your items if you were to put them on sites such as eBay, you do cut out any cost and time for putting the item online and posting the item.
SELL ON FACEBOOK MARKETPLACE – As you are probably already on Facebook, the Facebook marketplace is a great way to sell your unwanted or unused items to make extra money. You can find buyers in your area or set the reach wider. Though for larger items, like cars and furniture, buyers are often willing to travel to you.
START AN ONLINE STORE – Do you have an idea or product you want to sell? With drop-shipping an easy and potentially very profitable way to make money, as well as sites such as Shopify and Wix with the goods to make a site today, what are you waiting for? While there would be ongoing future costs, Shopify offers a 14 free trial and Wix has a free plan available, which can allow you to get a feel for what they are all about before committing.
BECOME AN UBER OR LYFT DRIVER – Spending your spare time driving others around can be a great money maker. Also with Lyft's referral program, you can make money for every person you sign up. Once they sign up and complete a certain amount of rides within a specified period, you'll earn a cash bonus!
BE A COURIER – With an abundance of online stores nowadays, there are plenty of opportunities for you to make money with your car by signing up to become a courier. To be a self-employed courier you will need your own car with a valid MOT as well as a valid driving licence. You will also have to pass a background check. The job gives you the flexibility to choose when you want to work so it's easy to turn into a side hustle.
RENT OUT YOUR PARKING SPACE – Commuters often need regular spots near stations, while visitors to sports and music events are looking for spaces near the venue. If you live in a city centre or near an airport or train station, renting out your driveway can be a money-spinner. It is an easy way to make money without actually having to do anything and could earn you a lot of extra money each year.
RENT OUT YOUR CAR – If your car is often parked on the drive and idle, why not rent it out? There are now plenty of apps out there like Turo that make it easier than ever to rent out your car. By signing up to an app and handing the keys over, you could make upwards from $50 a day. Do check with your insurer that renting out your car does not invalidate your insurance before proceeding.
PUT ADVERTS ON YOUR CAR – It might not be up your street, but turning your car into a moving advertisement could be a great way to make some extra money. You can choose what you want to advertise so you don't have to put anything on your car you really don't want to. With some companies you will have to drive a minimum amount of miles each month, while others will pay you for parking. The more of your car you cover, the more money you will make!
LET OUT STORAGE SPACE – If you have a spare or empty basement or garage, you could rent it out as storage space. Sites such as www.storeatmyhouse.com connect people with spare storage space to those who need it. An easy way to make some extra money from extra space you have!
RENT OUT ITEMS YOU OWN – Surfboard taking room up in the office? Tent taking cover in the garage? If you have things you only use occasionally or that are gathering dust why not rent them out to someone else who will use them? Sites like fatllama.com allows you to list items that you own and rent them out in exchange for a fee.
SIGN UP TO AIRBNB – If you're already renting out your items, why not rent out your place or room? By signing up to sites such as Airbnb you can rent a room, or even your entire home when you are away. You can set your own price and choose how long your home is available. Renting homes and rooms has become a popular way many people are making extra money.
BECOME A TUTOR – If you have in-depth knowledge of a particular academic subject, physical skill or craft, lots of parents are willing to pay a tutor to help their children do well at school. Maths, science and English tutors are particularly in high demand. The hours are flexible, but you will have to work around school hours, so that means evenings and weekends.
TEACH DURING SUMMER SCHOOL – If you are a teacher, then spending part of your summer teaching summer school is a great way to make extra money. This is perfect for teachers with no children as you may be away for the kids holiday terms, but a great way for any teacher to make a nice slice of extra cash each year.
PROOFREAD – If you are looking for a new job, or just new ways to make money on the side, this may be a way for you to do just that. Sites like Kibin pays proofreaders per word, but also includes bonuses for deadlines and customer satisfaction. On average, editors and proofreaders earn $15-$25 hour but many can earn up to $30 per hour consistently.
HIRE OUT YOUR HOME FOR FILMS SHOOTS – Why not bring Hollywood to your backyard by hiring out your home or rooms for film shoots? You can list your location on sites like filmlocationswanted.com and wait for the film crew to come knocking.
GET PAID AS A FILM/TV EXTRA – If you're letting out your home to Hollywood why not try it yourself? If you've ever dreamed of being on TV you could sign up to an agency and see what comes your way. An extras section at Productionhub.com will help you find an agency in your area. Beware of rogue agencies pressuring you to pay for a photoshoot or ask you to pay any upfront fees to join.
BABYSIT/NANNY – If you have some spare time and can offer your services or skills to a family in need you could earn more than $10 an hour for childcare or babysitting duties. Sites such as greataupair.com can put you in touch with nanny duties near you.
MAINTAIN YARDS – If you enjoy gardening then yard maintenance is a great way to make money this year. You can make extra money by mowing lawns, killing and removing weeds, cleaning gutters, raking leaves, and more. Every season offers the opportunity for some type of yard maintenance which could turn into a regular gig.
CLEAN HOMES – Cleaning is something a lot of people put-off or dread. If you are good at cleaning or enjoy it then you could apply to clean people's houses or offices. You could earn around $20 an hour or more in some areas.
RUN AN IRONING SERVICE – Many people hate ironing the most out of all chores, which is why it is a great way to make some extra money this year. Putting ads in local newspapers or online sites such as Gumtree could help you, but If you don't want the hassle of finding your own customers, you could join a web-based agency such as Allironedout.com.
HOUSE SIT – This is becoming more and more popular these days with people wanting to keep their homes safe while their away. Sometimes you may not be paid but compensated with a nice place to stay, but in many cases you do get paid to watch the house. Sites such as housesittersamerica.com can help you get started.
HELP PEOPLE WITH THEIR DIY – If you're known as a bit of handyman, helping people to fix or do odd jobs around their homes is a possible way to make some extra money this year. Advertising your services on sites such as Gumtree and Craigslist is a great starting point and once you get a customer or two, word-of-mouth is always a powerful tool with these types of things.
HELP PEOPLE MOVE – If you're already helping with those DIY or handyman jobs, helping people move is another way to make some extra money this year. Moving is a super stressful task and helping with the hefty job can earn you anywhere from $20-$50 an hour.
DOG WALK – If you love walking and love animals this could be your perfect money maker. With many people having pets and also jobs that keep them away from them for many hours, dog walking has become a popular service. Rover.com is a one of the many great companies that you can sign up with in order to become a dog walker.
PET SIT – Like with walking, many owners want their pets taken care of when they're not there but not all pets leave the house! if you have some extra time you may be required or asked to check-in on someone's pet, feed, walk or play with their pet while they're away. Owners might arrange for you to house-sit as well. Sites like Rover.com and Tailster.com can help you find people near you looking for pet sitters.
GROOM PETS – Another pet lover dream! If you have a good space or car to set-up a mobile business pet grooming is another good way to make some extra money this year. With so many pet owners in and around your area there are a number of opportunities to be had.
WORK IN RETAIL – Take up some part-time work within retail. Many stores are always looking for new staff and if you are clean, tidy and punctual you can make some extra money working in retail. You may even get a discount in the store you work at!
WORK IN A RESTAURANT – To kitchen staff, bussers, hosts and waiters, restaurants are forever looking for staff. Many restaurants will also offer discounts when dining out at the restaurants you work at, so a way to save money also!
BARTEND – If you have experience or are a quick learner you may be able to find a bartending job at a bar, hotel, restaurant and more. If you currently work 9-5, a bartending side-job is a perfect way to make extra money as bartending hours are usually in the evening.
WORK AT A HOTEL OR RESORT – With so many jobs within the hospitality industry there's a number of options to choose from. Hospitalityonline.com helps those looking for job within the hospitality segments look and apply for work.
MYSTERY SHOP – Many companies will pay you to go undercover and pose as a customer at their store or restaurant to test anything from staff, to services and products. Bestmark is a great site to dip your toe into mystery shopping. You can make anywhere from $100 upwards extra money and receive free meals, beauty items and more!
ANSWER SURVEYS – Answering surveys won't bring in a wave of cash but it is one of the easiest ways to make extra money online if you have some spare time. There are a number of sites such as American Consumer Opinion and ProOpinion, that will alert you when one becomes available once you are signed up. They're free to join and use, and you get paid to answer surveys and sometimes products.
ENTER GIVEAWAYS – Have you ever heard of the saying "You got to be in it, to win it?" Well it's true! If a giveaway is free or has minimal entry fees why not give it a go? There's no guarantee of course but you could win cash, gift cards, vacations, electronics, and much more! The main point is to enter as many as you can. Many stores and restaurants also have monthly or weekly giveaways that you can sign up for if you check the bottom of your receipts.
PLAY GAMES ON YOUR PHOME – Apps like Mistplay has a loyalty program for mobile games where you can earn rewards for playing games on your phone. Apps like S'more allows you to earn points every single day that you have their app installed, and points can be redeemed for gift cards.
BECOME A FREELANCE WRITER – If you're good with words you can earn extra money by writing for a number of different clients, websites, magazine and more. You work for yourself and contract out your writing. This is great way for a writing creative who is good and quick with words to make some extra cash.
TAKE PART IN MEDICAL RESEARCH – Definitely not for everyone and not everyone is suitable, but medical studies allow you to help with the research, study of medicines and more while being paid to do so. Studies ask for certain types of people for the different tasks needed to be performed and most cities have these paid trials you just have to look for them.
So there's a number of ways to make extra money this year just take your pick. While all might not be suitable to you, or what you're looking for, I'm sure there's at least something here for everybody. Let's work towards that retirement fund this year. Lets get any debts paid off and those savings up!
What ways have you made extra money? Which were most successful?