7 Mins Reading Time
How To Become A Succesful, Money Making AirBnB Host.
Airbnb has revolutionized the hospitality industry much in the same way that Uber and Lyft disrupted the transportation industry. The home-sharing service offers a one-of-a-kind experience that you can't get at a hotel. And it's often substantially less expensive than more conventional methods of lodging.
You've likely stayed at an Airbnb as a guest. But if you're here, you are probably interested in renting out a room in your home or some other space. As an Airbnb Super-Host for more than three years, I have seen just about everything and have a few tips for success to help get you started. Read on for nine hosting strategies that will help you succeed at Airbnb whether you are renting out a room in your home or an entire property.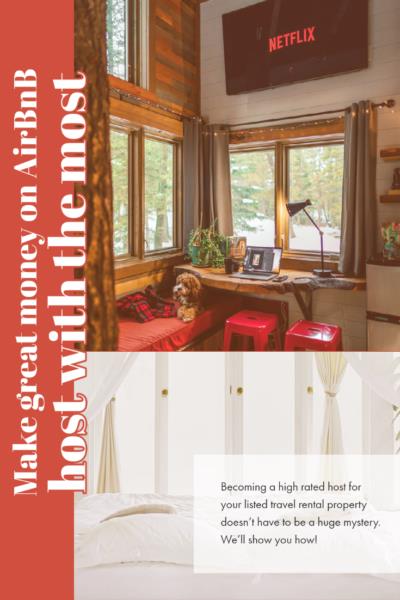 Make Sure to Look Into the Legality of Home-Sharing in Your Area
Airbnb hosting is usually governed at the local level by your municipality. Be sure to look into local laws and restrictions that dictate where and how you are allowed to host. Being informed from the get go will keep you from landing in hot water for violating local law. Also be mindful that most rental properties have a clause prohibiting tenants from subletting.
Take Great Pictures = Great Cash
I cannot stress this enough. The first thing a prospective guest is drawn in (or turned off) by is your cover photo. Put your best foot forward and use a picture that takes advantage of good lighting and gives your space an inviting look. All of the photos in your portfolio should showcase what makes your space great and give prospective guests a realistic idea of what it looks like. If you're not great with a camera, it is well worth hiring a photographer to take some snaps.
Be Up Front
If your listing has flaws, be honest about it. There's really no such thing as a perfect Airbnb. Your guests will be grateful that you didn't try to deceive them and will take that into consideration when rating you. If your listing states that parking is challenging, you are much less likely to get a critique that criticizes your parking situation. It's all about managing expectations up front and ensuring that your visitors have a realistic idea of what they are in for.
A Few Creature Comforts Go a Long Way
I provide toiletries, phone chargers, a Blu-ray player, and a collection of movies to make sure that guests feel right at home. I've also found that bottled water, a coffee pot, and coffee and tea are a big hit. Not all of my guests use all of those amenities but they certainly appreciate having them and it goes a long way in making the space feel more like home.
Communicate with Your Guests = More Money
Be warm and welcoming when a guest books your listing. They have lots of choices and they chose you. Let them know that you appreciate that and provide them with any pertinent information that wasn't disclosed in the listing. I have a pre-written welcome message that covers the major bases but I personalize it before sending it out in order to make sure my prospective guest(s) feel(s) valued and knows that I am there to help with any questions they may have. If the person is using the Airbnb platform for the first time, I always make sure to let them know what to expect and give them a rundown on how the service works. I remember being overwhelmed with information when I booked an Airbnb for the first time, so I try to alleviate that and let my visitor know that they are in good hands.
Less is More
When it comes to designing your space, remember that this is one of those cases where less really is more. Guests don't want to look at your clutter or feel overwhelmed by the amount of furniture you have crammed into your space. A minimalistic approach will give your visitors more room to breathe and keep them from feeling crowded. A bed, two night stands, and a set of lamps is a good jumping off point. Depending on the size of the space, a chair and a dresser may be nice. But don't go overboard and try to keep the area you are hosting free of any personal clutter. If you are renting an entire home, make sure that every room is inviting and optimized for your guest to make themselves comfortable.
Keep It Clean
It goes without saying but I will say it anyway: Keep your space spotless. People don't want to be reminded of the guests that stayed there before them. They want to feel like they are the first person to enjoy your space. Every part of your home that guests will have access to should be tidy and well kept. The easiest way to get a negative critique is to neglect cleaning duties. A clean home makes for a happy guest.
Listen to Feedback from Guests
This one was really hard for me at first. It's easy to dismiss guest feedback as nonsense. But keep in mind that there is usually at least a grain of truth (sometimes much more) in a negative review. It my hurt your pride a little but learning from your mistakes will keep you from getting the same complaint more than once. And if someone put their gripe in a review, they likely aren't the first person that had that particular concern.
Respond to Feedback Politely and Professionally
Airbnb gives you the opportunity to reply to reviews. If you get a bad one, take a moment to let yourself calm down and figure out if the problem is something you can fix. If it is, consider responding by thanking the guest for their suggestions and letting them know that you have listened to and implemented their feedback. When a future guest sees that negative review, they will also see that you took feedback into consideration and fixed the problem. That goes a long way in showing that you are an adaptable and approachable host.
Additional Content to Make Extra Money:
Have you listed and rented on AirBnB? What was your experience?