6 Mins Reading Time
Make More Money. Save More $$. Work Less. Live the Life of Your Dreams.
Join Today And Begin Your Journey
Life is a delicate balance. For many of us, it's about finding a happy medium between what's good for us and what brings us joy. The two don't always go hand in hand. So, it's important to try to minimize vices and destructive behavior for the sake of our wellbeing.
With that in mind, I've put together a list of six common pitfalls that are draining your wallet and putting your good health in jeopardy.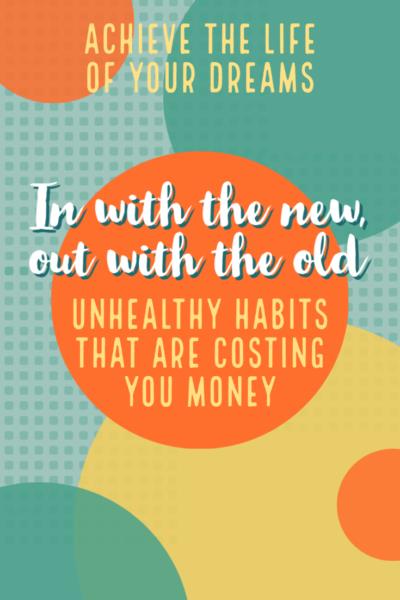 Tobacco Use
If you're a tobacco user, you know that cigarettes, chew, and the like are harmful and you know that you can drastically improve your overall health and financial situation by quitting. Having friends that smoke or are former smokers, I know you've probably been shamed and lambasted for your dependency on tobacco. So, with that in mind, I won't fan the flames or pile on because I know that rarely (if ever) helps. But I will tell you that kicking the habit can save you thousands of dollars per year.
In New York, the base price for a pack of cigarettes is a staggering $13.00. At that rate, a pack-a-day habit will cost you nearly $5,000 a year. That's money that could be going straight into your emergency fund or towards diversified investments for retirement.
(Insert link to article on starting an emergency fund here)
Heavy Alcohol Use
Research indicates that red wine (in moderation) is good for the heart. However, binge drinking on the regular is expensive and bad for your long-term health. Not to mention, alcohol is expensive. Drinks at the bar with friends can be a fun escape on occasion but it's far cheaper (and better for your physical and mental health) to meet for a cup of coffee or tea. And to the best of my knowledge, no one has ever come down with a hangover after a cup of java.    
Gambling
As is the case with most things, gambling can be okay in moderation. If you're able to set a limit and stay within said limit, playing slots or poker (on occasion) can be a fun way to unwind. But not everyone can exercise the self-control required to avoid losing big. Only a small percentage of people every consistently make money at gambling. So, why not sock away the money you would spend playing the odds and use it to invest in your financial future?
Energy Drinks
While they may be good for a quick boost when you really need it, energy drinks are full of sugar and caffeine. Excess sugar intake can lead to type two diabetes and large doses of caffeine can cause an unhealthy spike in blood pressure. For a natural (and steady) supply of energy, consider taking a multivitamin and getting plenty of rest at night. Cutting out energy drinks will save you money in the long run and help you stay in better physical health.
Obsessive Use of Social Media
Social media is an incredible marketing tool. And if you are a blogger or small business owner, you likely know how effective it can be when used properly. With that said, social media is a double-edged sword. It can be a time sink that keeps you from making money (by taking away from basic productivity) and can also trigger anxiety and depression. Constantly checking your social feeds for validation is detrimental to your mental health and the gratification you get from 'likes' and comments is short-lived.  Learning to let social media work for you instead of against you will free up time for more productive ventures and will allow you to exist in a better headspace.
(Insert article on more productive things to do than use social media here)
Fast Food
Sure, fast food is convenient and appealing after a hard day at work. But, when eaten on a regular basis, it leads to obesity and poor physical health. It's also costly when compared to substantially healthier options that you can cook at home for a fraction of the cost. If you can enjoy drive-thru fare in moderation, that's great. But if it's a regular part of your life, think how much money you could save and how much healthier you could be by giving it up or drastically limiting your consumption.