6 Mins Reading Time
Make Thousands Every Year By Becoming A Mystery Shopper
Did you know that people can get paid to shop and dine out? Seriously! It's called mystery shopper or mystery diner, also known as secret shopping and entails posing as a regular customer in order to assess the service a business is providing in a certain location.
Working as a mystery shopper is a super flexible part-time opportunity for anyone. You get paid for your time, choose the hours you work and possibly scoop-up freebies in the process!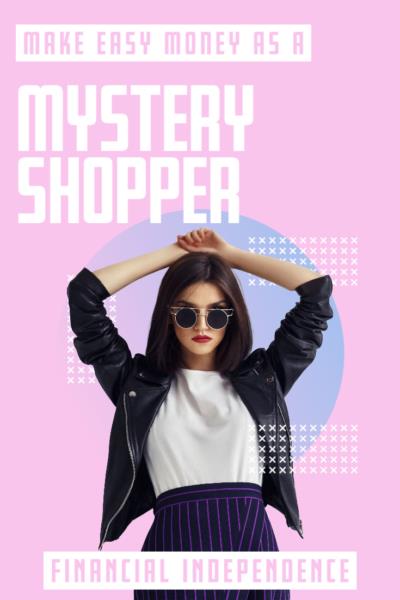 Most of the big chains are signed up to some kind of mystery shopping scheme, so there's plenty of work out there but with hundreds of thousands of people registered as mystery shoppers, competition can be tough. Firstly, ignore any spam emails inviting you to become a mystery shopper. Legitimate companies don't send them.
A business hires a mystery shopping company to evaluate their services. While every mystery shop assignment is a bit different, most assignments will require you to complete your shop on a specific day and time. It may also require you to listen for certain services to be offered; to ask specific questions and remember the answers you receive to those questions. You may also be required to note the details of your surroundings, to cleanliness and signage positions. You may even require you to take photos of the location; or to record conversations that you have with employees.
Mystery shopping is great because it can help you make extra income, on your own time. Learning how to become a secret shopper can be a fun way to help you pay your bills, save more money, and reach your financial goals a little quicker.
There are mystery shoppers for lots of different things including;
Restaurants
Fast food drive-through
Electronic stores (such as Best Buy)
Nail Salons
Spas
Retails stores
Amusement parks
Car dealerships
Movie theatres
Makeup counters, and so much more!
If you're totally new to mystery shopping, Bestmark and Volition.com are a good place to start.
During the application process companies might set you a simple test. That could be an assessment of your grammar and spelling or a small task. You will be required to give your home, phone and full contact details. One of the other things you should know if you are wanting to learn how to become a mystery shopper is what happens if you can't complete the task when you are supposed to.
If you find that you cannot do a shop that you sign up for, all you usually do is contact your scheduler and say you need cancel to try to reschedule. Try not to do this too often as this will be remembered, with some companies removing you from their list of shoppers after just one failed shop. This works the same with professional mystery shoppers. Companies will offer good jobs to good shoppers so remember that!
Good mystery shoppers are punctual, reliable, and observant. The main thing is you do not want staff to recognise or realise you're working under-cover as the value of the assignment will be lost, so discretion is key. You also need a good memory as it is not always possible to make physical notes on the shop floor. It's important to be well-organised and able to file reports promptly.
Tools that can be useful for mystery shopping include a smart phone that can scan receipts, be used as a timer (for standing in queues etc) and take good pictures.
Companies vary both in their payment rates and the speed of payment, some paying the following week whilst others might take a month or two. It can be worth signing up with a few agencies to find the one that feels the best fit for you, both in terms of the jobs offered and the payment schedule. Mystery shopping won't make you rich but it can definitely help you with whatever financial goal you're in. Remember to read over the requirements of a mystery shop several times before attempting to confirm the shop assignment. If you miss some of the details, you most likely won't be paid
Some mystery shop assignments can also be carried out at home, such as ones involving checking out how user-friendly a website is, or making a call to customer service making notes about how a enquiry is handled.
To be successful in mystery shopping it's best to apply to lots of mystery shopping companies to increase your chance of getting regular gigs. Check for available shops often and don't accept a shop you're sure you can complete it. If you're willing to accept less-than-glamorous of last-minute shops when starting out it will improve your standing with a company and put you in a good position to get well paid and nice jobs coming your way.
Remember while it won't make you rich mystery shopper can be a great side-hustle with the potential to bag some freebies in the process.
Additional Content for Extra Money:
What is your experience being a mystery shopper?