7 Mins Reading Time
Dozens of Birthday Freebies You Are Missing Out On
Who doesn't like a birthday freebie? Well, any freebie is nice, but when it's your birthday there are a number of ways to get food and gifts from many companies, for FREE, just because it's your birthday! While you may be used to "Happy Birthday" Facebook posts, get ready for an abundance of freebies! You may have to sign up their newsletter, but free stuff is always worth an extra email in your inbox. You could go to all the places below on your birthday and actually save money! Happy Birthday!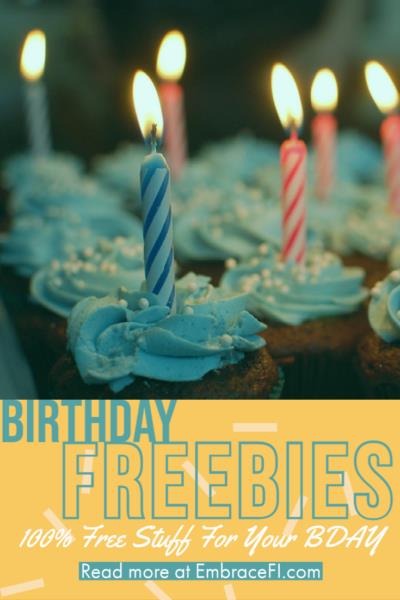 Fancy breakfast? Denny's sends a birthday coupon for a FREE "Build Your Own Grand Slam" breakfast if you sign up for Denny's Rewards. No purchase is required, it's totally free!
Sephora will hook you up a sample of high-quality makeup on your birthday. Just sign up online or in store and you are eligible for a free birthday gift that is redeemable two weeks before, or two weeks after your birthday! Sephora's 2020 birthday gifts include samples from Milk Makeup, Briogeo, and Sol de Janeiro!
Get your birthday caffeine fix with Starbucks who will give you a free drink on your birthday (as long as you've signed up for Starbucks Rewards account). Just give the barista the card associated with your account, and relish in some free fresh hot-coffee
Everyone deserves free cake on their birthday. Sign up for Applebies rewards program and get a free dessert when dining on your birthday!
You can't have all the flavors but you can get a free scoop of your favorite flavor of Ice-cream at Baskin Robbins. Sign up to the Baskin Robbins birthday club to make it happen. You can also get a special discount on a birthday cake.
Join the pancake revolution and sign-up to the birthday club and IHOP will give you free pancakes with any topping at IHOP on your birthday! Not only that but if you're busy getting those free goodies elsewhere on your birthday, The IHOP birthday meal can be used 7 days before your birthday, on your birthday and 7 days after.
Thirsty? Jamba Juice will send you a coupon for free Small Smoothie or 12oz Juice when you register for the Jamba Insider Rewards program. No purchase is required and the coupon is valid on your birthday and for 30 additional days.
Download the Krispy Kreme app to get a coupon for a free small beverage and doughnut on your birthday. Sweet!
Cinnabon will give members of Club Cinnabon a free "special gift" on their birthday. Just registering will also get you a free minibon roll! Yum!
Not only will Olive Garden serenade you with their very own catchy birthday song, but you'll get a free dessert too! Join Olive Gardens eClub to take advantage.
Pinkberry helps celebrates its Loyalty members' birthday with free frozen yogurt! Load that cup with every topping!
If savoury is more you thing, if you sign-up to Auntie Anne's free phone app, you can receive a free pretzel on your birthday!
Become a FAB member with bareMinerals and you'll receive a product coupon redeemable for a gift. The Friends and Benefits program gives members a free birthday gift each year.
Get some FREE Birthday Shoes! DSW will give you $5 off a pair of fresh kicks on your birthday if you sign up for their VIP rewards program! Members of the DSW VIP Rewards program get a $5 birthday coupon every year.
Join My Red Lobster Rewards at least seven days before your birthday to get a free gift on your birthday, along with other surprise offers!
Fancy "Happy Birthday" sang to you in Japanese on your birthday? Get yourself down to Benihana! Members of the Chef's Table newsletter program get a complimentary $30 gift certificate during the month of their birthday!
Fancy a sandwich made your way on your birthday? Sign up for the Subway Eat Well Club and receive a free meal on your birthday!
Who doesn't like some flare on their birthday? With TGI Fridays Rewards plan, you'll get a free birthday dessert, and a good ol' sing song.
.
Become a member of the Waffle House Regulars Club to receive a free waffle on your birthday! Me please!
Need something quick while driving on your birthday? Sonic Drive-In will give you a "free surprise" on your birthday if you sign up for their Birthday Club.
For a free gift on your next birthday, simply sign up for Aveda's Pure Privilege Reward program and Aveda will celebrate your birthday by giving you a FREE birthday gift valued at $23! There is a one-time $10 enrolment fee to become a member but you get the birthday reward every year as a member!
Red Robin will give you a free birthday burger (and bottomless fries) when you sign up for their Red Robin Royalty Rewards program, and you can redeem it anytime during the month of your birthday! Fries on me!
Sign up to Old-Navy and you'll get a nice discount for you and your family on your birthdays. Just join their Birthday Club, and be sure to also fill in your children's birthdays and they will send everyone a free birthday discount!
Create a PizzaExpress account, and you'll get a surprise on your birthday. Pizza party, yayy!
By joining the CVS Beauty Club members can receive anything from a $3.00 reward or coupons for a free product like a nail polish or a lipstick, redeemable during your birthday month.
Fancy ditching Netflix and getting a rental? By joining Redbox's Play Pass you'll instantly get a free 1-night rental, and then another one you can use anytime during your birthday month! Nice!
That's a whole load of birthday freebies to dig into! Stop missing out now! And check out our article on free financial advice.
What Birthday Freebies Have You Gotten?