6 Mins Reading Time
Dining out is a nice break from the monotony. It gives you the freedom of not having to go to the grocery store. You don't have to plan a meal and you don't have to do the dishes. However, that kind of luxury comes at a cost. And if you don't pay close attention to the bottom line, restaurant dining can take a giant bite out of your budget.
As a man that believes you can have it all, I have a solution for you. You don't have to stop dining out, you simply need to make some minor tweaks to the way you're doing it. With a few small changes, you can enjoy delicious offerings from your favorite eateries and you can do it on a budget. Read on for my top tips on how to dine out without breaking the bank.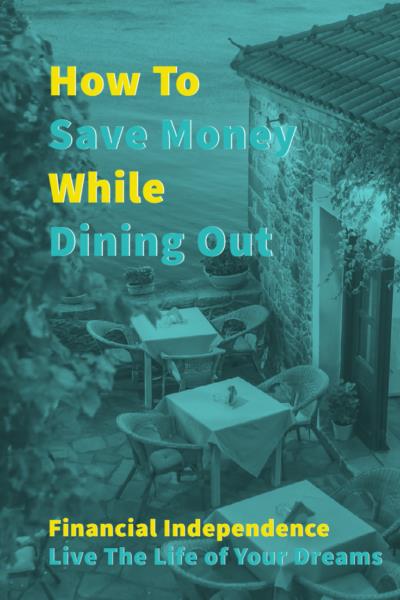 Meet for Lunch Instead of Dinner
It's often customary to meet friends for dinner. But falling into that habit can get expensive. Swapping out the routine of meeting later in the day for a noontime get together means a slightly smaller portion but a huge savings on your tab. The savings may not seem as staggering when looking at a single meal but if you get in the habit of doing this regularly, it will make a significant difference in your bottom line.
Use a Groupon
This is something I am trying to be more proactive about. Most of my favorite dining establishments have a Groupon going at any given time. And the amazing thing about that is that you save just by planning (and purchasing) ahead. If you know you are going out for date night, why not check out the Groupon app and see how much you can save on a night out with your significant other?
Go Out During Happy Hour
Happy Hour is strategically made available at times of day when you typically wouldn't think about dining out. But if you're willing to make some slight tweaks to your plans, you can save substantially. Happy Hour appetizers and drinks are often priced as low as half the regular menu price. At that rate, you may be able to load up on a couple of appetizers for less than the cost of one full-price entrée.
Split a Large Entrée
If you and your significant other don't have massive appetites, consider splitting an entrée. This will cut your tab in half and won't lessen the experience. One important thing to keep in mind is to make sure to tip your server as if you'd ordered two entrees. You are still taking up a table and their workload isn't lessened by the lack of a second entrée.
Eat Free on Your Birthday
Many restaurants offer a free meal on your birthday when you sign up for their rewards program. And a lot of merchants even give you a timeframe in which to use your complimentary meal beyond the big day. So, if you play your cards right, you may be able to stretch your birthday beyond the day of. Once again, please make sure to tip based on the value of your entire meal, not your tab.
Buy a Discounted Gift Card
Companies like Costco sell prepaid gift cards for both local and national restaurants. If they have gift cards available for one of your favorite eateries, consider picking one up before you head out to eat next time. It will save you money in the long-run and if you eat there regularly, you can be sure the card won't go to waste. 
Opt for Water over Beer or Wine
Not only will cutting out caloric drinks help you keep your figure, it will also save you substantially. Beverages have one of the biggest markups at a restaurant. While it's nice to get a cocktail or a soda with your dinner from time to time, your budget will stretch much further if you simply opt for water. Besides, the majority of people dine out for the food, not the drinks. The beverages are just icing on the cake.