6 Mins Reading Time
Find The Best Budget App
Finding the best budget app for you depends entirely on your financial goals and your lifestyle. The right budgeting app for you may not be the best choice for the next person. So, to eliminate some of the guess work, I am recommending four popular budgeting apps and highlighting what each one does best! Which app is best for your specific needs? Take a look below to find out.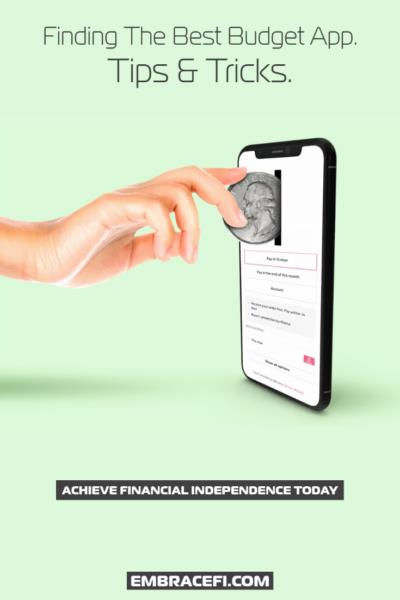 Mint
(Completely Free and Great for Those New to Budgeting)
Mint is fairly well recognized as one of the most well-rounded budgeting apps on the market and best of all, it's free. Mint links to your bank, credit card, and loan accounts to give you real time visibility to expense tracking and breaks your spending up into categories for greater awareness around where your money is going.
You cannot edit the prelabeled budget categories native to the app but you can add and create your own. The software allows you to set alerts to notify you if/when you've exceeded your budget, made a large purchase, or are in danger of being charged a late fee. Mint also gives you free access to your credit score!
The interface is exceptionally user friendly, making this app great for those that are technology averse, as well as those who are new to budgeting.
Goodbudget
(Great for Couples)
This app was designed with couples in mind. It allows multiple users the ability to access a single household budget plan, giving anyone that you share a bank account with visibility to the same data. The app's proprietors have received feedback from numerous couples swearing that Goodbudget saved their marriage. Now that is high praise.
The app is an update on the envelope strategy that was more commonplace before the advent of debit cards and brings the concept into the digital era. Each category of your budget is represented by an 'envelope' in the Goodbudget app.
The one downside to this particular app is that you have to manually import your banking info to keep it up to date. You can either enter each transaction or download a CSV file from your bank to import data via desktop. While this is a bit of a nuisance, the fact that the program was built with multiple users in mind makes up for the extra legwork that may be required.
There is a basic version of the app available for free and a premium version that runs $5 a month or $45 for the entire year.
PocketGuard
(Best for those with Consistently Predictable Monthly Income)
This app gives you great visibility to your bottom line: How much do I have left over to spend after all my expenses are paid? The core goal of the app is to help you spend less and save more. Like many budgeting apps, PocketGuard allows you to link multiple bank and credit card accounts to your profile.
Another key feature of PocketGuard is that it identifies recurring expenses (cable, Internet, phone bill) and makes suggestions for how you can save by making changes to your service provider or plan.
If you Haven't Already, Check Out Our Article on How to Save $1,000 Per Month.
The basic version of the app is free but provides limited functionality. The Plus Membership is $20 a year or $4 a month. The premium version comes with additional features not accessible in its complimentary counterpart. The paid version allows users to add additional pockets (budget categories) and track cash, in addition to importing your online banking info.
This app is best suited for individuals with fairly predictable income. One of the core functions of the program is forecasting the future of your finances.
You Need a Budget
(Great for Those Looking to Pay off Debt)
YNAB is specifically designed to help users stop living paycheck to paycheck and pay down debt quicker than you thought possible.
It implements zero-based budgeting and like Goodbudget, it's a modern take on the envelope system, which ensures every one of your hard-earned dollars is accounted for and you know where it's going. I like that the app utilizes easy to recognize color coding that alerts you when you are running low or over budget in a specific category.
This app has a monthly recurring charge of $11.99 or, if you pay annually, it will run you $84. Did I mention that the creators of the app offer a free 34-day trial? And YNAB even works with Amazon Alexa?
Related Content on Budgeting:
What budget app do you use or have tried?